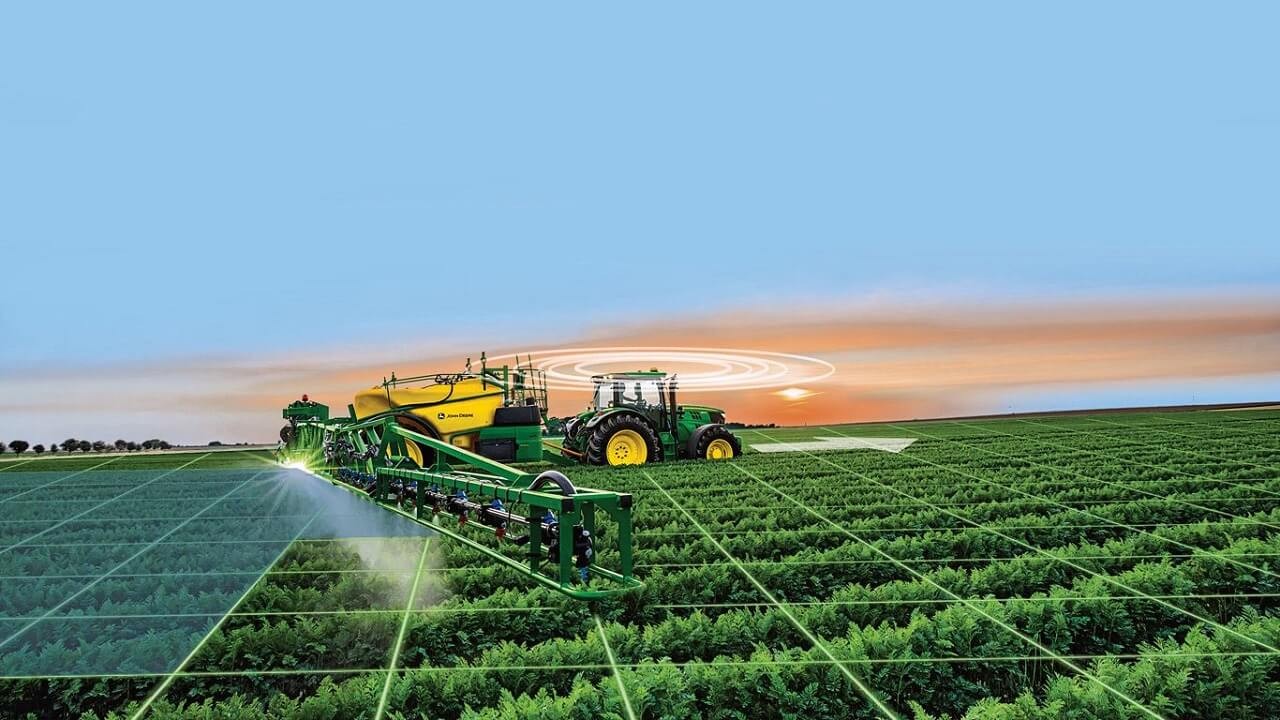 Agriculture Solutions Product Guide
March 23, 2018, 8:50 am
There are a lot of manufacturers who produce specialized implements for small and big farming needs. Some of these implements are targeted at select agriculture produce such as corn, small grain (wheat, rice etc.), sugar and cotton while other organizations provide equipment and services for Agriculture Contractors who buy agriculture implements and lease them to farmers.
Agriculture contractor services is an exciting business opportunity because access to contractor services is the one of the fastest, most cost effective way to spread mechanization and improve farmers income and food security in Nigeria. This article is a guide on the various agriculture solution products available for improving food security and farmers income in Nigeria:
1. Disc Plough
The disc plough is used as primary tillage to turn-over prepared or virgin soil to ensure a good mix of nutrients in the soil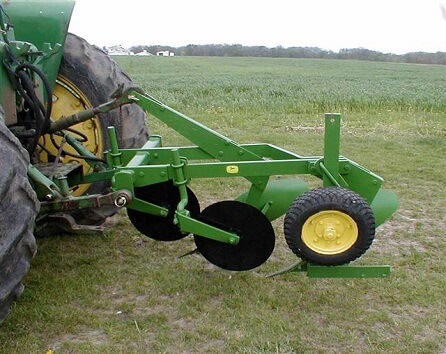 Specifications:
It has robust main frame and hitch mast

It can come in hitch mounted models, for example 2 bottom disc plough and 3 bottom disc plough

Typical disc size is 660mm X 6mm

Its weight can range from 280kg to 375kg

A working depth range of 152mm to 304mm is most common

Where the farm land is made up of sticky soil, heavy duty disc scraper are ideal for effective cleaning

Tractor power requiremement depend on hitch mounted models, for example 2 bottom disc plough require a tractor power range of 38HP to 65HP while a 3 bottom disc plow require a tractor power range of 55HP to 90HP
2. Spring Cultivator
A spring cultivator is used as secondary tillage to loosen and even out soil after it has been ploughed or compacted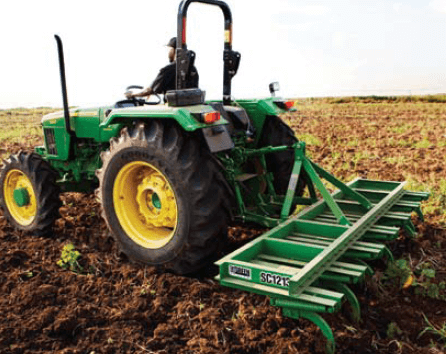 Specification:
It can come in either a 9 tine or 13 tine models

Working depth range of 100mm to 175mm are possible

Typical minimum working width are 1.8m (for 9 tine model) and 2.3m (for 13 tine model)

Typical tine width is 25mm

Weight can range from 240kg to 295kg

Heavy duty springs are usually incorporated to absorb shocks and impacts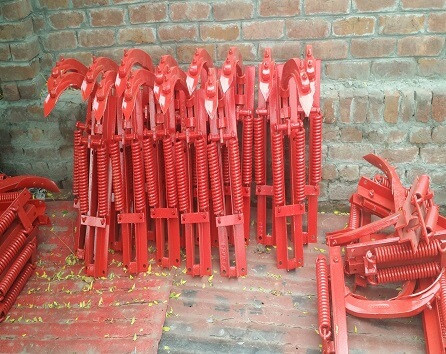 Reversible tine shovels are deployed where increased productivity is required

Typical tractor power requirement: 9 tine model, 35HP to 45HP; 13 tine model, 50HP to 60HP
3. Disc Harrow
A disc harrow is used to refine and improve the seedbed condition of the soil before planting is done. It is also used to smooth out a field after primary tillage or ploughing has been done.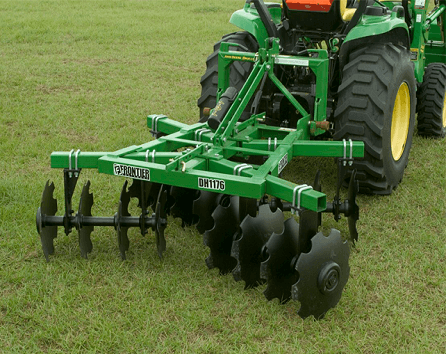 Specifications:
Typical disc size is 610mm X 6mm

The front and rear gang angles are adjustable

Its weight can range from 485kg to 590kg

Working depth can range from 100mm to 150mm

Minimum working width ranges from 1600mm to 240mm

Typical tractor power requirements are 45HP to 65HP for 16 disc harrow and 55HP to 90HP for 22 disc harrow

4. Sub-Soiler
A sub-soiler breaks through the hard pan and compaction layers in the farm land which helps improve water filtration and retention that in turn leads to improved plant root development.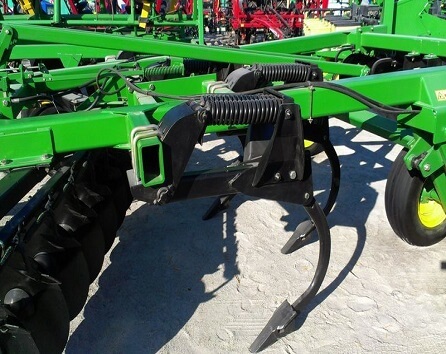 Specifications:
It can come in a 1 tine or 2 tine model

Typical working width is 1200mm

A maximum working depth of 550mm is possible

Shear bolt system is incorporated to protect the tines

Tractor power requirement ranges from 55HP to 75HP for 1 tine model and 65HP to 100HP for the 2 tine model

5. Seed Drill
A seed drill is used for planting most cereal and small seed crops such as wheat, grass and soyabean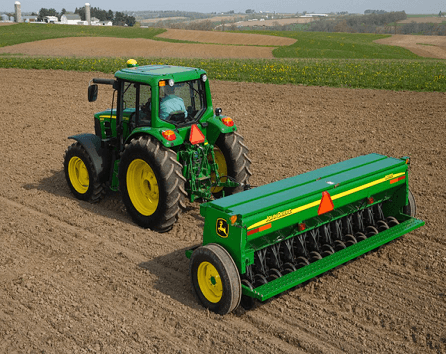 Specifications:
They can come in 9 tine to 13 tine models

An adjustable seeding depth of 0mm to 50mm is possible

Seed capacity can range from 65kg to 120kg

Fertilizer capacity ranges from 60kg to 115kg

A nylon fluted roller seed metering unit can be employed

Typical tractor requirement are 35HP to 45HP for 9 tine model and 50HP to 60HP for 13 tine model

Adjustable levers are incorporated to vary seed and fertilizer delivery
6. Row Crop Cultivator
The row crop cultivator is used for basic weed control between crop rows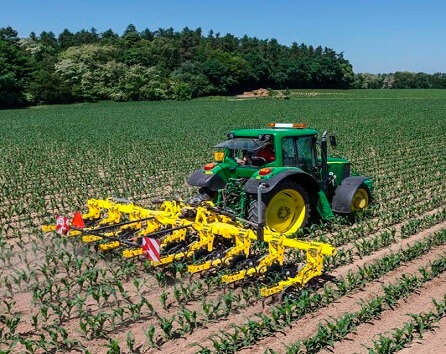 Specifications:
It can come in models of 2-row, 3-rowm, 4-row, 5-row, 6-row, 8-row etc with spacing adjustable from 0.762m to 1m

Possible working depth ranges from 40mm to 100mm

Frame clearance of up to 800mm is possible

Wider models come with flotation guage wheels and a transport feature

Tractor power requirement ranges from 35HP to 90HP
7. Mounted Fertilizer Spreader
The fertilizer spreader is used for broadcasting all types of granular fertilizer and small seeds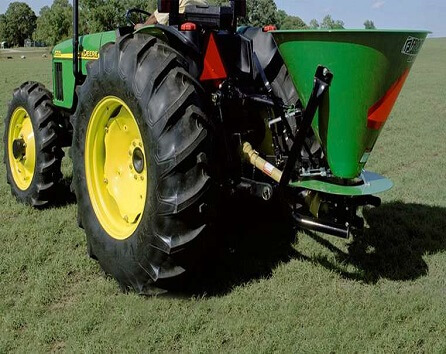 Specifications:
It can come in model capacities of 345 liter to 500 liter

Working width can range from 12m to 22m

It comes with the following adjustable features: application rate, spreading vanes and spreading direction

8. Sprayer
The versatile sprayer is used to quickly get in-field with most insecticides, herbicides and foilage application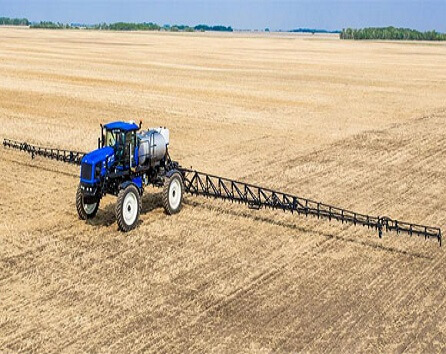 Specifications:
It can come in model capacities of 400 liter to 2000 liter

Lightweight stainless steel wet boom

Boom lenghts can range from 8m to 16m with 50mm nozzle spacing

Hydraulic boom lift for spraying at various heights

Tractor power requirements starts at 35HP and exceeds 75HP
9. Pull-Type Harvester
The pull-type harvester is used to harvest crops like corn, wheat, soybean, sorghum and rice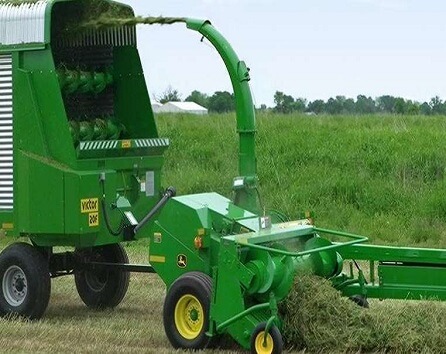 Specifications:
Optimal threshing design to allow higher harvesting speeds with more material throughput at higher moisture levels

Adjustable drum speed to husk, thrash and clean grain in one operation

Unique mounted concept allow easy mounting to tractor and excellent maneuverability

Tractor power requirement ranges from 60HP to 75HP with 540 PTO
10. Tipping Trailer
The tipping trailer has multiple load carrying uses with tipping feature to reduce material off-loading time. It's ideal for transferring of crops, hardware, soils, wood, refuse, small implements, furniture etc.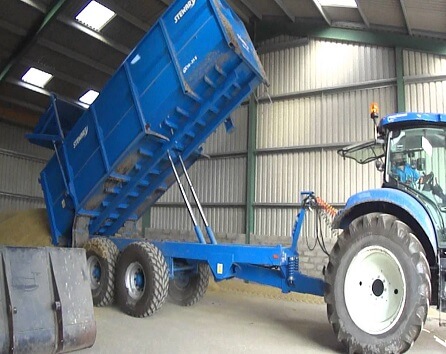 Specifications:
It can come in model ranges of 3 tonnes and above

Compact design and excellent maneuverability

Large hydraulic cyclinder for heavy duty unloading

Drop-sides to reduce height for easy loading and unloading

Tractor power requirement ranges from 35HP to 50HP upwards
11. Disc Ridger
The disc ridger creates ridges prior to planting fruit and vegetables including cassava, groundnuts, potatoes, carrots, squash, melons, berries etc. It can be used to cover planted cane or to create water flow control furrows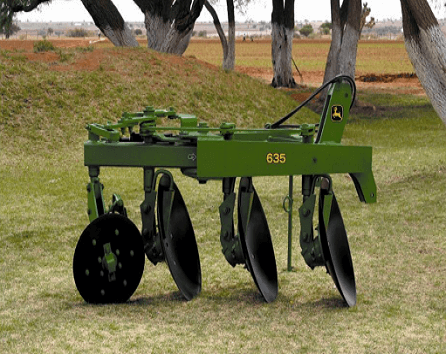 Specifications:
It can come in models of 2 disc, 4 disc, 6 disc etc.

Working depth can range from 250mm to 300mm

Weight can range from 190kg to 400kg

Typical disc size is 660mm X 6mm

Tractor power requirement ranges from 36HP to 100HP
Note: All tractor power requirement listed in this product guide are dependent on load and soil conditions
If you're interested in purchasing any of the agriculture solutions products discussed above, send a mail to agsolutions@agricdemy.com